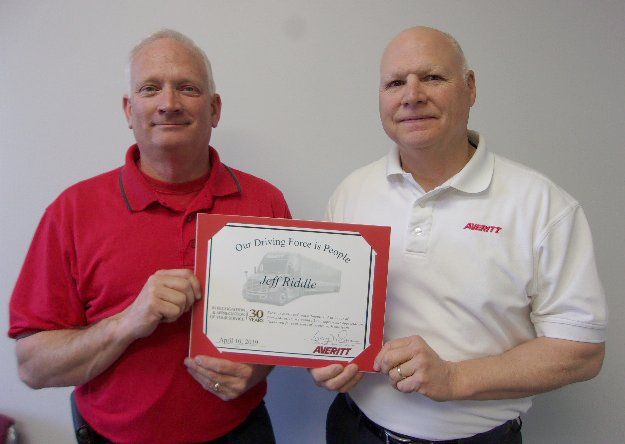 Each month, more and more Averitt associates are making major career milestones. From joining the ranks of our Over 20 Team to meeting safe driving accomplishments, these associates have played a major role in driving our company forward.
ASSOCIATE YEARS OF SERVICE MILESTONES
30 YEARS
Kevin Ashbaugh (Birmingham, AL, city driver)
Kevin Bell (Nashville, TN, city driver)
Jeff Jones (Nashville, TN, city driver)
Paul Myers (Chattanooga, TN, dock associate)
Jeff Riddle (Kingsport, TN, city driver)
Deborah West (Cookeville, TN, Truckload operations leader)
25 YEARS
John Harriman (Nashville, TN, city driver)
Jerry Hester (Tupelo, MS, shuttle driver)
Phi Irvin (Tifton, GA, shuttle driver)
John Needham (Nashville, TN, city driver)
David Shields (Kingsport, TN, city driver)
20 YEARS
Rhonda Anthony (Savannah, GA, frontline leader)
Tim Brown (Nashville, TN, city driver)
Jjuan Chapman (Atlanta, GA, dock associate)
Dave Glenn (Cookeville, TN, software support specialist)
Mike Jenkins (Knoxville, TN, dock associate)
Kay Newman (Cookeville, TN, programmer/analyst)
Herman Powers (Knoxville, TN, team shuttle driver)
Sheila Turner (Atlanta, GA, freight clerk)
ASSOCIATE SAFE DRIVING MILESTONES
25 YEARS
Donald Bowman (Dothan, AL, shuttle driver)
Steve Styles (Asheville, NC, shuttle driver)
Anthony Ward (Meridian, MS, city driver)
John Worsham (Richmond, VA, shuttle driver)
Photo: Kingsport city driver Jeff Riddle (L) celebrated 30 years of service with Averitt.
About Averitt Express
Averitt Express is a leading provider of freight transportation and supply chain management with international reach to more than 100 countries. Averitt specializes in delivering customized transportation solutions that include cross-border, dedicated, expedited ground/air, intermodal COFC/TOFC, international ocean/air, local customization, less-than-truckload, PortSide®, retail solutions, temperature-controlled, transportation management, truckload (dry van, flatbed, brokerage) and warehousing services. Averitt's technology offerings include a full suite of web-based shipping tools, electronic data interchange (EDI), warehouse management systems (WMS), and transportation and operations management systems. Together, these services and technology solutions provide "The Power of One" to shippers, allowing them access to multiple transportation solutions from a single provider. For more information, call 1-800-AVERITT (283-7488) or visit AverittExpress.com.