COOKEVILLE, Tenn. (Feb. 3, 2012) — Averitt Express associates have once again provided a substantial monetary gift to St. Jude Children's Research Hospital. Averitt Cares for Kids recently presented St. Jude with a donation of $400,000 during an event held at the Memphis hospital.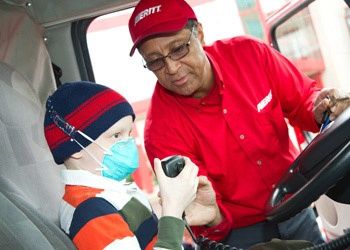 The funds were collected entirely from Averitt associate contributions during 2011, most of which were $1 weekly payroll deductions. Since 2006, associates have given more than $2.2 million to St. Jude through Averitt Cares for Kids, the charitable giving arm of Averitt Express.
According to Gary D. Sasser, Averitt's president and CEO, the associates of Averitt take a tremendous amount of pride in their relationship with St. Jude.
"Averitt associates have always been focused on giving back to our communities, and we believe there's no better way for us to do that than through our support of St. Jude," Sasser stated. "In fact, during these challenging economic times, participation in Averitt Cares for Kids has increased. That certainly speaks volumes about the generosity and character of the Averitt team."
In September 2007, Averitt Cares for Kids completed a $1.5 million endowment to help fund the initial construction of the Averitt Express Leukemia and Lymphoma Clinic, through which the majority of St. Jude patients are treated. Averitt associates' most recent contribution will support the groundbreaking research and lifesaving care at St. Jude, including the Leukemia and Lymphoma Clinic.
Averitt Cares for Kids was one of the first associate-supported charities of its kind when it was launched in 1986. It is 100 percent funded by voluntary contributions from Averitt associates and has made a difference in the lives of thousands of children. Since its creation, Averitt Cares for Kids has donated more than $6 million to charities, including St. Jude.
Thanks in part to the financial support of donors and organizations like Averitt Cares for Kids, physicians and scientists at St. Jude have pioneered treatments that have helped push the overall survival rates for childhood cancers from less than 20 percent when the hospital opened in 1962 to greater than 80 percent today.
More information about Averitt Cares for Kids can be found on Averitt's website atwww.AverittExpress.com/AverittCares.
About St. Jude Children's Research Hospital
St. Jude Children's Research Hospital is internationally recognized for its pioneering work in finding cures and saving children with cancer and other catastrophic diseases. St. Jude is the first and only pediatric cancer center to be designated as a Comprehensive Cancer Center by the National Cancer Institute. Founded by late entertainer Danny Thomas and based in Memphis, Tenn., St. Jude freely shares its discoveries with scientific and medical communities around the world. St. Jude is the only pediatric cancer research center where families never pay for treatment not covered by insurance. No child is ever denied treatment because of the family's inability to pay. St. Jude is financially supported by ALSAC, its fundraising organization. For more information, please visit www.stjude.org.
ABOUT AVERITT EXPRESS
Celebrating its 45th year of service, Averitt Express is a leading provider of freight transportation and supply chain management with international reach to more than 100 countries. The company is a founding SmartWay℠ partner and a member of The Reliance Network™, a network of carriers that provides seamless LTL services throughout North America. Averitt specializes in delivering customized transportation solutions that include cross-border, dedicated, expedited ground/air, intermodal COFC/TOFC, international ocean/air, local customization, less-than-truckload, PortSide®, retail solutions, temperature-controlled, transportation management, truckload (dry van, flatbed, brokerage) and warehousing services. Averitt's technology offerings include a full suite of web-based shipping tools, electronic data interchange (EDI), warehouse management systems (WMS), and transportation and operations management systems. Together, these services and technology solutions provide "The Power of One" to shippers, allowing them access to multiple transportation solutions from a single provider. For more information, call 1-800-AVERITT (283-7488) or visit AverittExpress.com.