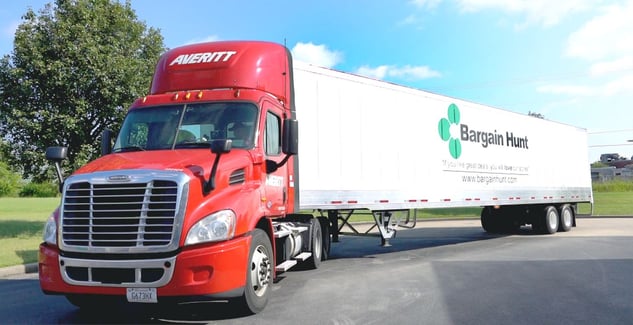 COOKEVILLE, Tenn. — Averitt Express has been honored with two Alliance Awards for results-driven supply chain collaborations. This marks the sixth year that Averitt has been selected as an Alliance Award winner.
Transportation publication Logistics Management and industry trade association SMC3 recognized Averitt and discount retailer Bargain Hunt for their combined effort in developing a unique approach to dedicated fleet operations. The companies' "hybrid fleet" strategy blends the use of Averitt's supply chain and less-than-truckload (LTL) city drivers to keep the retailer's freight moving continuously.
By allowing Averitt's supply chain and LTL to share the same trucks, Averitt doubles the productivity of each truck from 11 hours a day to 22 hours.
The resulting operational cost savings for Bargain Hunt are dramatic:
Dedicated tractors were cut from 26 to roughly 16.
The number of trailers utilized were reduced from 270 to fewer than 110.
The overall number of miles driven were cut by 20 percent.
"The partnership and strategy our team has built with Bargain Hunt has achieved a wide range of accomplishments," said Wayne Spain, Averitt's president and chief operating officer. "Not only does this unique approach to the retail supply chain reduce overall costs and improve on-time performance, it also reduces our combined impact on the environment by making it possible to utilize less equipment to accomplish the same amount of work."
In addition to winning an Alliance Award with Bargain Hunt, Averitt was also selected as a winner in conjunction with the Georgia Ports Authority, CSX Transportation, CMC Logistics and TCW.
"It's an honor for our team to be recognized in the industry for forward-thinking approaches to logistical challenges," said Spain. "We look forward to continuing to build relationships that help shippers grow and better serve their communities."
To learn more about Averitt and Bargain Hunt's unique supply chain solution, visit AverittExpress.com/BargainHunt.
About Averitt Express
Averitt Express is a leading provider of freight transportation and supply chain management with international reach to more than 100 countries. Averitt specializes in delivering customized transportation solutions that include cross-border, dedicated, expedited ground/air, intermodal COFC/TOFC, international ocean/air, local customization, less-than-truckload, PortSide®, retail solutions, temperature-controlled, transportation management, truckload (dry van, flatbed, brokerage) and warehousing services. Averitt's technology offerings include a full suite of web-based shipping tools, electronic data interchange (EDI), warehouse management systems (WMS), and transportation and operations management systems. Together, these services and technology solutions provide "The Power of One" to shippers, allowing them access to multiple transportation solutions from a single provider. For more information, call 1-800-AVERITT (283-7488) or visit AverittExpress.com.