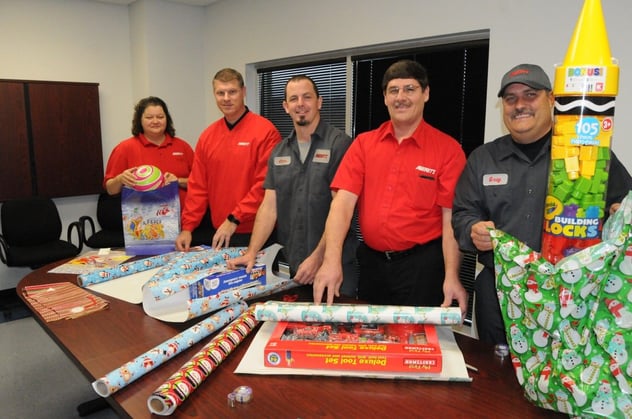 COOKEVILLE, Tenn. — Averitt Express associates recently teamed up to provide more than 4,000 hours of community service as part of its annual 40 for 40 Community Challenge.
During the event – which began five years ago to commemorate Averitt's 40th anniversary – each facility across its network is encouraged to donate 40 hours of service to various charitable causes from October 1 through December 31. In 2016, Averitt associates set a company record by serving 4,002 hours, with 66 facilities giving to numerous efforts such as clothing, food and toy drives, blood donations and more.
"Our 40 for 40 Community Challenge has become an important tradition for our team, because it shows the commitment we have to serving our local communities," said Gary Sasser, Averitt's chairman and chief executive officer. "I'm humbled by our associates' dedication to making a positive difference in the lives of everyone around them."
In honor of that service, Sasser additionally has personally contributed $40,000 to Averitt's charitable employee-giving program, Averitt Cares for Kids. More than 86 percent of Averitt's associates are members of Averitt Cares for Kids.
For more information about Averitt's 40 for 40 Community Challenge, visit InsideAveritt.com/40for40
About Averitt Express
Celebrating its 45th year of service, Averitt Express is a leading provider of freight transportation and supply chain management with international reach to more than 100 countries. The company is a founding SmartWay℠ partner and a member of The Reliance Network™, a network of carriers that provides seamless LTL services throughout North America. Averitt specializes in delivering customized transportation solutions that include cross-border, dedicated, expedited ground/air, intermodal COFC/TOFC, international ocean/air, local customization, less-than-truckload, PortSide®, retail solutions, temperature-controlled, transportation management, truckload (dry van, flatbed, brokerage) and warehousing services. Averitt's technology offerings include a full suite of web-based shipping tools, electronic data interchange (EDI), warehouse management systems (WMS), and transportation and operations management systems. Together, these services and technology solutions provide "The Power of One" to shippers, allowing them access to multiple transportation solutions from a single provider. For more information, call 1-800-AVERITT (283-7488) or visit AverittExpress.com.
Caption: As part of its recent 40 for 40 Community Challenge, Averitt Express associates from across its network completed more than 4,000 hours of community service projects.
Topics: Recruiting