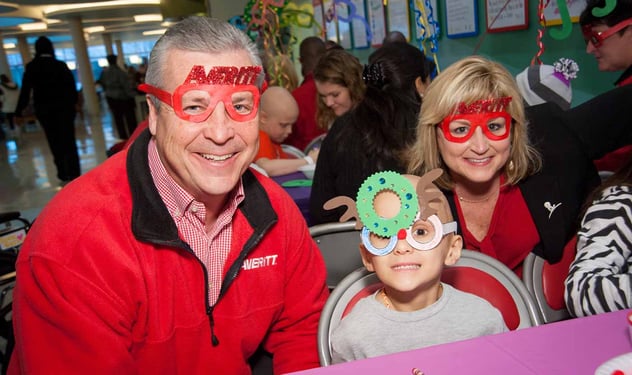 COOKEVILLE, Tenn (February 19, 2014) — Through weekly contributions, truck drivers and other employees of Averitt Express raised a total of $450,000 in 2014 that was recently donated to St. Jude Children's Research Hospital. Since 1986, Averitt Cares for Kids, the company's charitable employee-giving program, has contributed nearly $7.5 million to children-related charities, including the Shriners Burn Institute and Ronald McDonald House.
"Each year, I am more humbled by our team's drive to give to the community and provide support to children and families everywhere that are affected by childhood cancers and other illnesses," said Gary Sasser, Averitt's president and CEO. "With just a weekly donation of $1, our associates exemplify what can be achieved when people rally together for a good cause."
Through annual charitable donations, which are funded solely by voluntary employee contributions, Averitt Cares for Kids has raised a total of $4.8 million toward the funding of research and treatment at St. Jude since 1990. The contribution to St. Jude supports the hospital's mission of finding cures and saving the lives of children battling cancer and other life-threatening diseases around the world. Because of charitable contributions like this, no family ever pays St. Jude for treatment, travel, housing or food, and families can focus on what matters most – helping their children live.
A $1.5 million endowment toward the initial construction of the Averitt Express Leukemia and Lymphoma Clinic at St. Jude was completed through Averitt Cares for Kids in 2007. The majority of patients at the hospital are treated in the clinic.
St. Jude Children's Research Hospital is leading the way the world understands, treats and defeats childhood cancer. Treatments invented at St. Jude have helped push the overall childhood cancer survival rate from 20 percent to more than 80 percent since it opened more than 50 years ago, and the hospital is working to drive the overall survival rate to 90 percent in the next decade.
After nearly three decades, Averitt Cares for Kids remains one of the earliest and longest-lasting associate-supported charities of its kind and continues to bring happiness and hope to the lives of thousands of children.
Photo above: During the recent visit to present St. Jude with the 2014 Averitt Cares for Kids donation, Tupelo service center director Roger Raines, his wife Lorie and a patient enjoyed some arts and crafts time together.
To learn more about Averitt Cares for Kids, visit AverittExpress.com/AverittCares.
ABOUT AVERITT EXPRESS
Celebrating its 45th year of service, Averitt Express is a leading provider of freight transportation and supply chain management with international reach to more than 100 countries. The company is a founding SmartWay℠ partner and a member of The Reliance Network™, a network of carriers that provides seamless LTL services throughout North America. Averitt specializes in delivering customized transportation solutions that include cross-border, dedicated, expedited ground/air, intermodal COFC/TOFC, international ocean/air, local customization, less-than-truckload, PortSide®, retail solutions, temperature-controlled, transportation management, truckload (dry van, flatbed, brokerage) and warehousing services. Averitt's technology offerings include a full suite of web-based shipping tools, electronic data interchange (EDI), warehouse management systems (WMS), and transportation and operations management systems. Together, these services and technology solutions provide "The Power of One" to shippers, allowing them access to multiple transportation solutions from a single provider. For more information, call 1-800-AVERITT (283-7488) or visit AverittExpress.com.