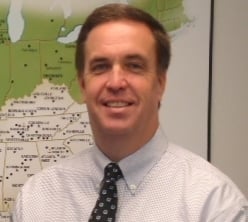 CHATTANOOGA, Tenn. – Averitt Express recently named David Harlan as its Chattanooga service center director.
Harlan is stepping into the position previously held by Joe Paul Tackett, who is moving to Nashville to become service center director there following the retirement of longtime Nashville service center director Tony Brown.
Harlan began his Averitt career in 1990 and was most recently service center director for its Jackson TN facility. Additionally, Harlan has served as a leader with Averitt's Dedicated operations, and he was a transportation sales specialist for 26 years.
"David brings a wealth of experience to his new role, and we're confident that the future is bright for our Chattanooga team," said Larry Mason, Averitt's vice president of operations. "We're also excited to see Joe Paul move into his new role in Nashville, and we're thankful for his efforts in Chattanooga."
Averitt's Chattanooga-area service center is located at 2140 Chapman Drive.
About Averitt Express
Serving shippers for over 50 years, Averitt is a leading provider of freight transportation and supply chain management solutions with an international reach to 100+ countries. Averitt's LTL, Truckload, Dedicated, Distribution & Fulfillment, and Integrated services provide shippers access to a wide array of services and customized solutions that cover every link in the supply chain. Together, these services and technology offerings provide "The Power of One" to shippers, allowing them access to multiple transportation solutions from a single provider. Averitt's 9,000+ associates are dedicated to delivering the most reliable services within the industry, and to promoting a company culture that is centered around people, communities and giving back. For more information, call 1-800-AVERITT (283-7488) or visit AverittExpress.com.