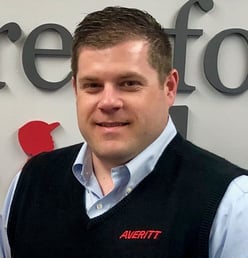 NASHVILLE, Tenn. – Averitt Express recently named Joe Paul Tackett as its Nashville service center director.
Tackett is filling the role formerly held by Tony Brown, who is retiring at the end of March after 38 years with Averitt. Tackett began his Averitt career in 2014 as a member of its operations productivity & efficiency team at its corporate office in Cookeville. He has also worked as a warehouse management system leader, and since 2017 has been service center director for Averitt's Chattanooga facility.
"Joe Paul has done an outstanding job wherever he's served with our team, and we're excited to see him move into his new role and help our Nashville team continue to move forward," said Larry Mason, Averitt's vice president of operations.
Mason added, "We also want to thank Tony for his immeasurable impact on Averitt Express for the last 38 years. As our Nashville service center director, and as Fayetteville TN service center director before that, Tony helped grow the Middle Tennessee market to where it is today, positioning us for growth moving forward."
Averitt's Nashville-area service center is located at 1 Averitt Express Drive.
About Averitt Express
Serving shippers for over 50 years, Averitt is a leading provider of freight transportation and supply chain management solutions with an international reach to 100+ countries. Averitt's LTL, Truckload, Dedicated, Distribution & Fulfillment, and Integrated services provide shippers access to a wide array of services and customized solutions that cover every link in the supply chain. Together, these services and technology offerings provide "The Power of One" to shippers, allowing them access to multiple transportation solutions from a single provider. Averitt's 9,000+ associates are dedicated to delivering the most reliable services within the industry, and to promoting a company culture that is centered around people, communities and giving back. For more information, call 1-800-AVERITT (283-7488) or visit AverittExpress.com.