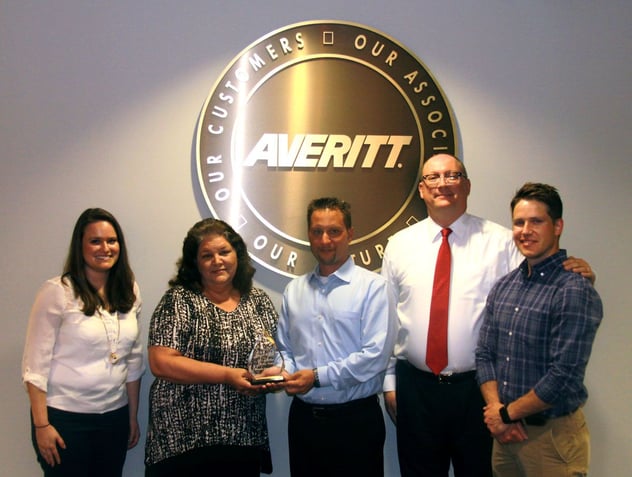 COOKEVILLE, Tenn. — For the second consecutive year, Averitt Express has been honored by Dollar General as its LTL Carrier of the Year.
The retailer's award was based on several criteria, including on-time service and providing innovative solutions to the supply chain.
"We are extremely pleased to be able to recognize the standout performance of Averitt Express and congratulate them on receiving Dollar General's 2016 LTL Carrier of the Year award," said Jason Smith, Dollar General's director of inbound transportation. "Carrier relationships, like the one between Dollar General and Averitt Express, are absolutely critical to the success of our company's mission to serve others, and we look forward to continuing to grow and strengthen our relationship with Averitt Express."
Averitt president and chief operating officer Wayne Spain is thankful for Dollar General's recognition.
"Dollar General is a long-term partner for our team and a well-respected customer, and we're humbled by the trust it has put in our team's capabilities," Spain said. "We look forward to continuing to show what we call 'The Power of One' to Dollar General and all of our customers."
The award marks the third time Averitt has been recognized as Dollar General's LTL Carrier of the Year, earning the honor in 2010 as well. Averitt was also named Dollar General's Carrier Partner of the Year in 2010.
About Averitt Express
Averitt Express is a leading provider of freight tr ansportation and supply chain management with international reach to more than 100 countries. The company is a founding SmartWay℠ partner, and specializes in delivering customized transportation solutions that include cross-border, dedicated, expedited ground/air, intermodal COFC/TOFC, international ocean/air, local customization, less-than-truckload, PortSide®, retail solutions, temperature-controlled, transportation management, truckload (dry van, flatbed, brokerage) and warehousing services. Averitt's technology offerings include a full suite of web-based shipping tools, electronic data interchange (EDI), warehouse management systems (WMS), and transportation and operations management systems. Together, these services and technology solutions provide "The Power of One" to shippers, allowing them access to multiple transportation solutions from a single provider. For more information, call 1-800-AVERITT (283-7488) or visit AverittExpress.com.
###
Caption: Dollar General recently named Averitt Express as its LTL Carrier of the Year for 2016. Pictured from left are: Dollar General senior operations supervisor Payton Sands, Averitt customer account support associate Bunnie Partin, Dollar General director of inbound transportation Jason Smith, Averitt director of corporate business development Tim Shuster, and Dollar General inbound transportation manager Chris Taylor.