COOKEVILLE, Tenn. — Averitt Express was recently recognized in a national survey as a Military Friendly Company for its commitment to military veterans.
The Military Friendly Company survey was conducted by veteran-owned business Victory Media. According to its website, the survey identified "organizations whose commitment to serving the military and veteran community is comprehensive in scope and meaningful in terms of actual outcomes and impact."
Other criteria for the survey including companies' hiring and career advancement opportunities for veterans, customer service and charitable investment.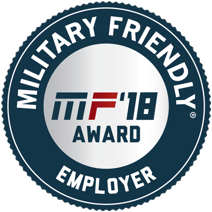 "We're honored and humbled to be named as a Military Friendly Company," said Elise Leeson, Averitt's vice president of human resources. "Our commitment to hiring military veterans and helping them grow in their careers is an important part of our culture. And veterans are a great fit for our team, because they know the importance of service, teamwork and working toward a common cause. Being a Military Friendly Company is a win-win for all of us."
As part of its commitment to military veterans, Averitt is a certified employer for the On-The-Job Training Program that helps veterans transition into the civilian workforce. Through this program, veterans who qualify for the GI Bill and are hired as Averitt associates can receive school tuition/transition assistance, and as much as $1,140 per month tax-free in available GI Bill funds for up to 12 months. These benefits are in addition to their Averitt paycheck
To learn more about the career opportunities Averitt offers military veterans, as well as see profiles of associates with varying service backgrounds, visit AverittSalutesYou.com.
For more information about the Military Friendly Company survey, visit militaryfriendly.com.
About Averitt Express
Averitt Express is a leading transportation employer with more than 100 locations throughout the United States. The company features many amenities to serve its driving force, such as state-of-the-art facilities, Driver Support Centers for its over-the-road drivers, dynamic safety technology on its equipment, finishing schools and other training programs, and much more. It also has a strong benefits package, including health, dental and vision insurance, a company-funded profit sharing retirement plan, an incentive program for referrals, a uniform credit, and paid holidays. These benefits, combined with a team-oriented culture and opportunities for career growth, help Averitt show "The Power of One" team throughout its network and to its customers. For more information about Averitt, as well as a list of job openings, call 1-888-WORK-4-US (967-5487) or visit AverittCareers.com.