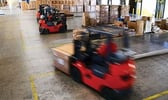 Point To Point
The seventh annual State of the North American Supply Chain Survey was conducted in late 2021. The goal of the survey was to gauge the challenges that shippers faced in 2021 and to gain a better understanding of their outlook heading into the new year. More than 1,800 shippers across a wide range of industries shared their input and experiences.
In Brief: A Look Back At 2021
The winter storms that major caused supply chain disruptions across the U.S. in February 2021 were a mindful reminder that the transportation industry is often at the mercy of Mother Nature. As millions in Texas and throughout the South struggled with mass power and water outages, frontline truck drivers were also unable to move freight in and out of certain areas due to hazardous roads.
In many regards, the difference between 2020 and 2021 was night and day for shippers and service providers within the logistics industry. 2020 was a brave new world marked by steep economic declines, business closures and overall uncertainty throughout the first two quarters. Last year, however, businesses experienced a booming U.S. economy that never seemed to slow down. But with that surging consumer demand, supply chains faced a wide range of challenges at home, abroad and at sea.
From the very beginning of 2020, the industry was already grappling with tightened capacity on the roads because of the ongoing driver shortage. Carriers and shippers also faced the added pressure of drivers being quarantined when they became infected with COVID-19 or had been exposed to the disease.
The problems with domestic freight capacity can also be traced back to foreign origins. Aside from the Suez Canal incident in March, China's "zero tolerance" approach to COVID-19 created hurdles of its own for the global community. In 2021, there were multiple occasions when entire seaports in China were shut down for several days due to a single individual testing positive. Coupled with the country's energy crisis that led to spotty manufacturing output, imports to the U.S. faced many delays before even hitting the water.
Still, one of the primary challenges that shippers experienced in the U.S. was the historic cargo congestion and dramatic port delays, especially those along the West Coast. Struggling to keep up with the deluge of container ships, the ports of Los Angeles and Long Beach have had more than 100 ships anchored off the coast waiting to be unloaded. What was once a 20-to 30-day lead time for some imports has increased
upward of two or more months.
At the same time, the domestic trucking industry has also been strained to move the sheer number of containers to and from the ports. Still, carriers and shippers moved forward, adjusted their operations and even sought different approaches to the situation. Averitt, for example, promoted cross-docking services near ports to speed up the process of picking up and returning containers.
The numbers from our survey illustrate the challenges with capacity that shippers experienced across the board last year. Thirty seven percent of those surveyed said they had experienced issues with capacity. That marked a 12 percentage point increase from the previous year. At the same time, it was the highest percentage recorded in the survey's seven-year history. And in correlation with the laws of supply and demand, more than half (52%) of the respondents said they experienced rate increases last year.
On The Road Ahead
If the industry was expecting the new year to bring immediate relief to the challenges of 2021, we may all be best advised to take a deep breath and hold on for a bit longer. Currently facing a new wave of coronavirus, businesses and supply chains are once again having to adapt more quickly than ever right out the gate into 2022. While showing signs of being weaker than previous strains, omicron has rapidly spread around the nation, leading to sudden temporary business closures and quarantines.
This comes at a time when we recorded our highest sentiment yet in terms of expected business growth and shipments. When we asked shippers if they planned to ship more in 2022 than 2021, 76% said yes. Though only 3 percentage points higher than the previous year, it shows that most businesses are expecting continued growth in the months to come.
With that continued growth, the industry will surely face ongoing challenges in the months ahead when it comes to port congestion and domestic capacity constraints.
---
This article is part of a series taken from our Annual Shipper Survey Results Issue of Point to Point. You can click here to down the issue in its entirety for free!