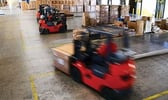 Point To Point
No matter what type of shipping option you use, there's one fact everyone learns pretty quickly – fuel surcharges can add up in a hurry.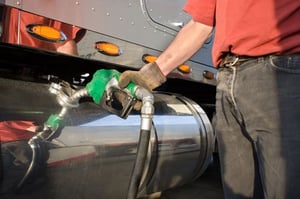 Fuel surcharges are tacked on to shipments by carriers to balance the fluctuating costs of fuel. This can become a problem for shippers, because it takes time and attention to fully understand them.
In this article we'll look at these surcharges and discuss how even something so universal is subject to a number of different factors.
Why Do Fuel Surcharges Exist In The First Place?
Fuel makes up a large share of the cost of transporting goods by truck. Since the cost of fuel changes almost by the hour, and contracts are locked in months or years in advance, a fuel surcharge is a way for carriers to account for variations in fuel prices.
Recent Impact of Events In Ukraine
In early 2022, supply chain congestion had already led to year-over-year rises in costs at the pump. However, the invasion of Ukraine by Russia in February 2022 led to a significant spike in fuel surcharges across the U.S. and around the globe.
For context, the national average price for diesel was $3.846 on January 31, 2022. By March 7th, that price had risen by more than a dollar to $4.849 per gallon.
At first, the increase doesn't make much sense for the American market. At the time of the invasion, the U.S. was a small-time buyer of Russian oil. However, the oil market is, in fact, a global market. And that is where the challenges arise for Americans.
In the grand scheme of things, Russia has been a large player in the global oil and fuel market. Europe, for example, purchased 60% of Russia's oil exports in 2021. China also purchased 20% of Russia's oil exports that year.
The sudden shift in relations between Russia and the West quickly led to a flurry of international buyers looking to other markets to purchase oil, including Saudi Arabia and even Venezuela. With more buyers moving from Russia to other nations, tightened supply is met with rising costs.
However, many of the major oil producing nations and members of the Organization of the Petroleum Exporting Countries (OPEC) are still reeling from the dramatic drop in demand that occurred during the first year of the pandemic in 2020.
Having slowed production to cut losses in 2020, many oil rich nations are still determining whether to increase supplies to balance prices or let the market take its natural course in light of the events in Ukraine.
As a result, fuel surcharges will most likely remain volatile throughout 2022 as shippers and carriers deal with uncertainty abroad.
When Did Fuel Surcharges Begin?
They actually began in 1973 as a result of the Arab oil embargo. At that time, the Department of Energy began tallying a National Retail Diesel Average, which was meant to help compensate carriers who were being impacted by the dramatic fuel price fluctuations caused by the crisis.
Once prices steadied, these surcharges were actually removed. However, they returned again in the late '90s when diesel prices rose sharply. They've been a factor in overall shipping costs ever since.
How Are They Determined?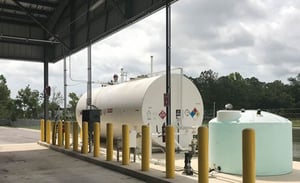 Each carrier has its own formula for calculating surcharges. They're normally added to the total freight charge on either a per-mile or percentage basis.
These methods replace the 15% flat fee set up by the Department of Energy in the '70s. That flat fee was based on the total linehaul charge and caused massive overpaying by shippers of high-value goods. It was later abandoned. Today, these are often based on an average mile per gallon and the national average price of diesel.
Many carriers determine their fuel surcharge according to the National Average Diesel Fuel Index, published weekly by the Energy Information Administration (EIA). This Index collects retail pricing information from fuel stations throughout the United States, and creates a national average.
The Bottom Line.
Fuel surcharges are a valuable tool for carriers to protect themselves against fuel price increases over the life of a contract. At the same time, they're also a factor that can greatly impact overall shipping costs. Knowing how they work is essential in fully understanding your cost of operations.